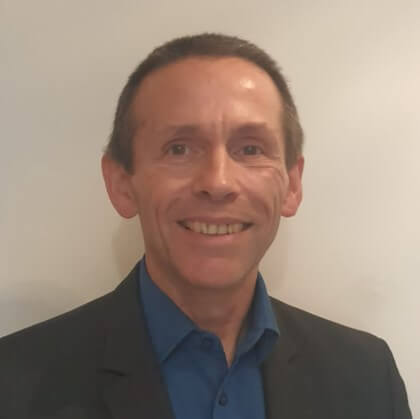 Christian holds a PhD in Sciences from the University of Brussels and works as an independent consultant, auditor and coach.
Since more than 25 years, he is supporting executives and leaders looking to increase their own resilience as well as the resilience, continuity and sustainability of their enterprises.
He's been working in very diverse and international environments abroad and in Belgium (BNPParibasFortis, Record Bank / ING, Sibelga, PwC, NMBS, Baloise, Etablissements Français du Sang, Roche pharma, Hamon, …).
Christian's vision and experience from the field is that best resilient enterprises stay in business and grow by also caring about their people, technologies and environment. Hence the need for a winning sustainability strategy supports fight against climate change and reduction of the environmental footprint.
On a more personal touch, he is the proud father of 2 teen girls, and that's another strong thrive for developing resilient paths on a daily base and offering his family a better future.
Advisory services (consulting, awareness, solution design, governance definition, mentoring), coaching and training:
mainly around resilient IT and business activities
Continuity plan creation, exercising and validation
Low carbon transition / transformation: awareness, carbon footprint measurement, objective definition and roadmap creation.
Christian at the Data Protection Institute
Christian is on an early exploration about what is there for him and what he can bring to DPI to create mutual added value, support and development.
He is looking forward to a fruitful relationship, in a B-2-B bi-directional collaboration.
"If you want to go fast, go alone, if you want to go far, go together."
Christian graduated as secondary school teacher.
He delivered training to the HP Education Center.
He is a certified PECB Trainer.
He regularly presents at fairs / events.
As a teacher / presenter, he's always looking to make it:
Interactive (welcome dialogs, interventions from participants, Q&A's, …);
Practical (how are learned concepts used in real life, also inserting examples from my own experience).
Stay informed via our newsletter
Stay connected with our latest news, offers and available training.