Partnership DPI with Play it
Data Protection Institute, has co-created captivating content together with Play it, starting a new era of customer awareness within the realm of data protection. Together, we are revolutionizing the way people perceive and engage with GDPR and cybersecurity training, making it anything but boring.
Through our collaborative partnership, we have crafted a gamified training approach that will captivate and empower your users like never before. Say goodbye to mundane lectures and tedious presentations. Instead, prepare to embark on an immersive journey where learning becomes a thrilling adventure.
With this cutting-edge gaming experience, co-developed by Data Protection Institute, you will not only equip individuals with vital knowledge and skills but also drive a positive and measurable impact on their behaviour. By infusing the learning process with excitement and interactivity, we ensure that your users not only comprehend the significance of data protection, governance, and security but also embrace these principles as an integral part of their daily lives.
Play it SECURE: Cybersecurity and GDPR courses
Data protection and cybersecurity are hot topics. These are probably also high on the agenda in your company. It is a complex topic and a decent cyber security course is hard to find. Fortunately, simulations for GDPR training offer an alternative that motivates and works:

GDPR and data protection taught in a fun and interactive way
You probably noticed it yourself: not everyone is equally interested in topics such as GDPR and cyber security. They are usually taught in dry e-learning modules with lots of text. Moreover, the content is quickly forgotten and/or is not translated to real life. Retaining the attention of your colleagues during an internal course is key to avoiding fines in the future. Play It prefers a different approach.
Instead of firing theory at your audience in a one-way stream, we teach the different rules in a highly interactive and visual method, based on practical situations drawn from real life. The course takes the form of a visually appealing simulation that all employees get access to.
A complete compliance course
Cybersecurity is a broad term. You must take many factors into account to fully integrate data protection into the mindset of your team. With our learning games, you tackle specific challenges one by one. Play It Secure has modules on:
GDPR
phishing
passwords
e-crime
removable media
etc.

Interactive concept for a complex subject
Dry and complicated theory on data protection is hard to remember. By providing interactive cybersecurity training to your employees, you focus attention on GDPR within the values of your company and team. The players virtually experience practical, real-life situations. Want to bet that a compliance course has never gone so smoothly?
A new mindset with minimal effort
Processing personal data correctly should really be woven into the DNA of your team. Play It Secure simulation games do exactly that. They create awareness… and maintain it! On the Play It Platform, you make a continuous learning programme available to your employees. You avoid logistical headaches with your GDPR training and get a real-time overview of each user's progress. This ensures you always stay on the ball.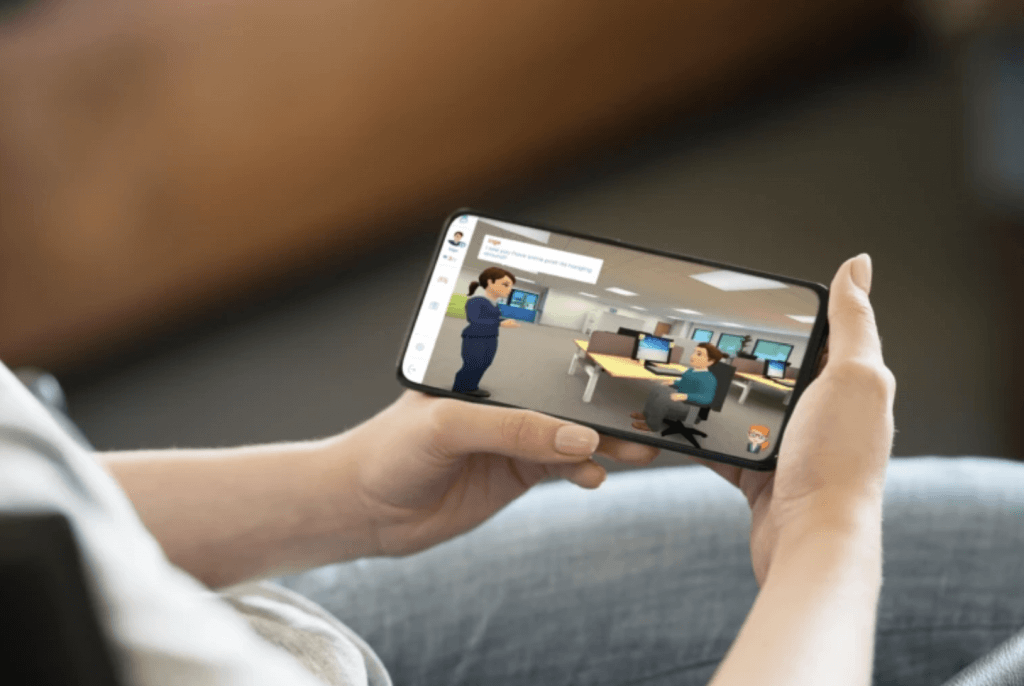 How it works

Create and retain knowledge and awareness
Many companies process personal data on a daily basis. Our learning simulation is the perfect solution when it comes to teaching data processing rules to your staff, ensuring this knowledge is kept up to date and keeping them alert.
Avoid mistakes and associated fines due to a lack of knowledge among your colleagues.
Avoid organizational and logistical nightmares: all employees will always have access to a single practical platform.
Achieve optimal motivation among participants with an informal approach and practical examples.
Obtain a useful overview and proof when employees have received certain information.
Create a continuous stream of information instead of a one-off learning moment. Spread the information across several moments throughout the year to create a high awareness level in your team.
The Play it Platform
The Play it platform consists of the following elements:
LMS – this intuitive portal offers you clear and easy:
user management: invite, add and manage users
group management: manage users in group
training management: link training courses to groups
reporting: via the portal home page you can immediately see the most important data
advanced statistics: insight into the knowledge of your staff in a structural way: who did what training, what were the most common mistakes, sortable by person, group, domain and training
data export: save raw data to an Excel file
global management with 1 or more administrators: a user with a license can get access rights to the portal (the responsible prevention, HR…)
Training game – our approachable game allows you to train your employees efficiently within your corporate culture:
how they want: mobile (Android, iOS), via Web (Chrome, Firefox, Edge) or VR
when and how long they want: there is no limit on time or play sessions
in different environments: production, office…
in different domains: First Aid, Fire, Ergonomics, Hygiene, General Safety and Psychosocial
in multiple languages: English, Dutch and French (This can be extended if you provide the translations. Then Play it does the implementation of these additional languages free of charge)
A complete overview of available basic courses can be found at https://www.playit.training/en/courses-and-environments.
They already played it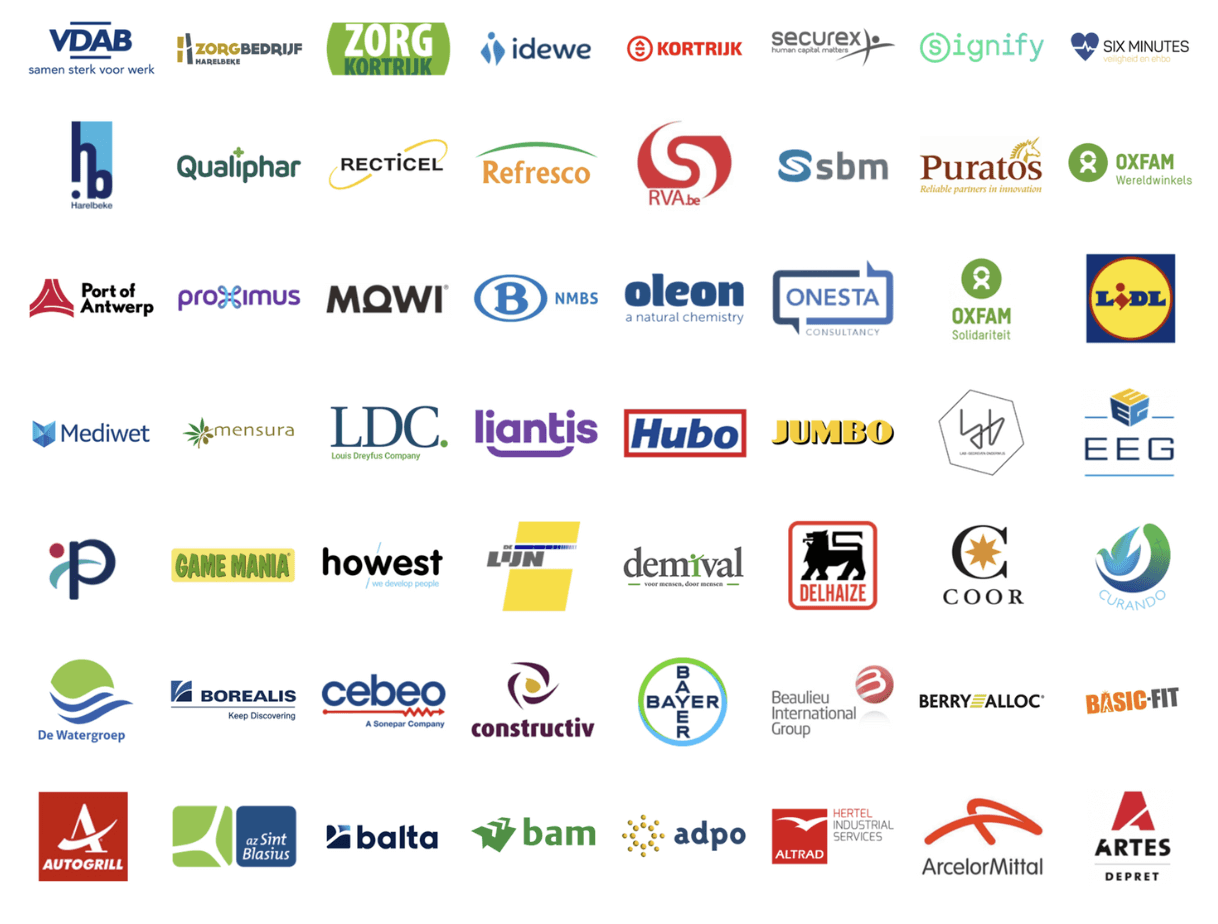 How does Play it help you save money?
Play it saves your company's money, both in the short and long term! Successful use of its G-learning solution leads to the following cost savings:
In the short term, Play it allows you to train your employees effectively, up to 4 times faster than other learning methods, on a device of your choice and in 5-minute blocks. This with no travel costs and no impact on your operations. Your staff members train where they want, when they want.
The high knowledge transfer of G-learning – up to 30% more than traditional methods – and the way we work on behavioral change will result in fewer absences and accidents as well as substantially decreased risk of ransom attacks. European Union research shows that for every 100 euros you invest in prevention, you save 210 euros!
Blended learning helps you save time. Play it clients from different sectors often save 3 hours per employee. For every 500 employees, that's one FTE saved.
Less wasted time thanks to intuitive and user-friendly reporting and administration.