Data Governance Foundations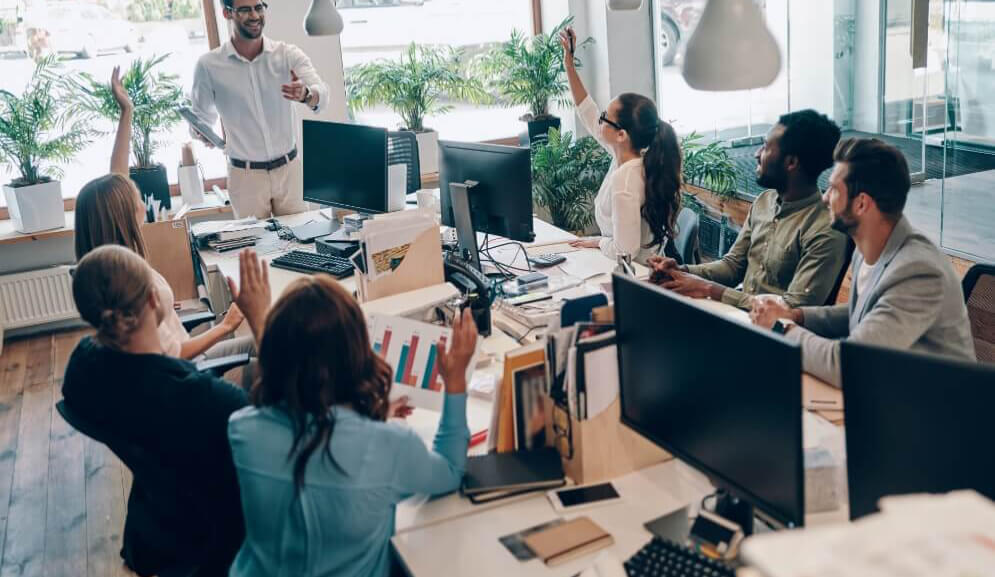 Time
from 09h00 - 12h00 & 13h00 - 17h00
Next training date
28

november

until 28

november

2022
Our teachers for the training: Data Governance Foundations
This training is taught in English.
What is data governance? And do you really need it?
Even when your organization is packed with data management solutions, data management in itself often remains an enigma. Getting value out of data in our daily jobs and on behalf of the organization often sounds more like alchemy.
This introduction course learns you how to govern your company data – which is essential to understand your data and how you can use it to obtain value from it (for you and your organization).
Data Governance Foundations demystifies data governance, to provide you with a practical understanding of it and allowing you to apply it in real life. Additionally, we show you how to control data and obtain operational and analytical value for your business.
We'll also cover common regulatory constraints (e.g., GDPR, Data Governance act, Data Act,…) and focus on recognizing and managing data quality, as well as how to deal with data catalogs.
We touch on some key data governance topics, including:
A proven methodology.
Data governance organization.
Operating models including data governance roles & processes.
Technology.
Architecture and positioning vs existing solutions.
The link to data strategy.
A list of use cases and how they were practically applied.
Demystifying your data allows you to democratize it for users companywide.
It empowers non-IT personnel to gather and analyze data correctly and efficiently in a self-service manner. They can then share the outcomes of their analysis with their peers, producing reports that lead to more and faster insights. It also frees up the data team to do what they do best – which is maxizing value from it for the organization.
Levelling the playing field and learning how to efficiently access quality data cuts down on long lead times in terms of obtaining data and creating reports. And it streamlines operations – a win-win across the board.
But … democratizing data should also be a controlled process. A radical change of orientation, mindset, and practice are required. And that's why we focus on giving you the 'tools' you need to manage that change. For instance, we identify common pitfalls along with data governance best practices, like:
Investing in the wrong tools based on the assumption that all tools serve the same purpose (There is no one-size-fits-all data governance tool!).
Too much complexity in terms of your metamodel, workflows, policies, visualizations, etc..
Lack of buy-in or training where data governance tools end up unused, gathering dust on the shelf.
If you're looking to introduce data governance at your organization and want to revolutionize how your business approaches and uses data – Data Governance Foundations gives you the building blocks and a practical way forward.
We show you how data governance and its components give you and your company a competitive, data-driven edge – ensuring that you understand what it's about and enabling you to convince your organization of its importance.
This course is perfect for anyone who wants to know more about data governance, its use, impact, and application.
Why take this course?
The course is provided by data professionals with a proven track record of successful data governance projects with a passion for helping businesses do more with their data. They're likely to have faced many of your challenges and opportunities and can help you overcome or realize them.
Get a solid grasp on what data governance is all about and what it entails. You'll discover why your organization needs it through everyday examples of common problems that data governance can solve.
Discover how data governance can accelerate and boost your organization's approach to data management. You'll find out how to spot and capitalize on great business opportunities through a use case using our proven method.
Besides the theory, a practical use case is applied throughout the course – making every step recognizable and easy to understand.
Learn how to properly apply data governance in your organization to avoid the pitfalls that plague businesses trying to be future forward.
Learn the prerequisites to data governance to take the proper first steps, implementing an effective approach from the get-go.
Find out what you need to know (and have in place!) before buying data governance-related tools. We also distinguish between the different kinds of tools so that you cut down on company waste.
We'll demystify terms like data catalog, business glossary, data dictionary, policy enforcement, horizontal vs vertical lineage, etc. And we'll explain the different meanings these terms can have depending on the supplier that offers them or the guru who talks about them.
This course isn't limited to data governance tooling, which typically only covers 20% of data governance. It also covers the other 80% in terms of organization, operating model, change management, practical implementation, etc.
Target group
The perks of the Data Governance Foundations course are undeniable, but you might be wondering if you're data-savvy enough to benefit.
This course aims to get whole companies on the same data-driven, data-awareness page. In principle, no prerequisite knowledge is required. That means whether you're the business team lead, a key user, data worker, the head of IT, a C-level stakeholder, or even a data professional – you stand to benefit from this course.
Are you a data architect, data analyst, data engineer, BI developer, data scientist, machine learning (ML) expert, chief data officer, business leader, primary user, IT manager, or IT staff member? This course isn't just for you but for your business peers as well.
Are you part of a business team, or do you have business-related duties? Data Governance Foundations is especially for you. It's your chance to up your game on data, maximize your personal and company gains, and boost employee satisfaction.
Learning goals
What you'll learn in a nutshell:
What data governance is and why it exists.
Why data governance and data catalogs are crucial for data-centric organizations.
How data governance & data catalogs contribute value (through use cases).
How data governance compares to other data management practices, IT solutions, and business processes.
Our proven hands-on data governance method (DTA*).
A high-level understanding of data governance and data catalog-related methods, organization, technology, roles, and data processes.
Why metadata and metamodels are essential and what you can do with them (e.g., access, implementation, and seeing the big picture).
The basics of data architecture and how they affect data governance and data catalogs.
You'll get a snapshot of the different tools, their differences, and when to apply them.
How to apply data governance by applying a practical use case.
Educational approach of this course
Data governance Foundations is an agile course – either provided in a classroom setting or in-house, which can be customized to your needs and prior knowledge.
You'll learn the data governance ropes through theory and a series of hands-on exercises. We help you establish the link between the rationale behind and application of data governance and data catalogs.
To do that, we'll introduce you to our tried-and-tested data governance methodology. This method – taught and applied in a wide variety of organizations – has proven successful time and again.
What will help you get the most out of this course? Leave any preconceptions you might have about data, data governance, and data catalogs behind. Wait to apply your prior knowledge and approach the course with a clean slate.
To ground your learning experience, we also provide a booklet of course material handouts, including our data governance method and a set of related exercises.
This training is taught in English.
End product
Data Governance Foundations is ultimately about discovering what data governance is about, why it's essential to your business, and preparing you to implement best data governance practices. This one-day course does not entail any exams or official certification, but you will be awarded a certificate of attendance at the end of the course.
Bonus: In-house training is available, complete with custom, company-specific cases.
How to prepare yourself
To get the most out of this course, we recommend that participants summarize their organization's main challenges. Take a two-pronged approach and list them in separate columns as either business-related bottlenecks or data-related ones.
For example, do you have a less than stellar track record of project success? Do you often end up over budget? Are your report and insight lead times inconveniently long? Those and related items can be filed under 'business challenges'.
In terms of data, consider the following:
Do your data investments have a nasty habit of yielding less than expected?
Do you suffer from poor data quality?
Do you have trouble acquiring a high enough degree of accuracy from your data science models?
Are your data sources and data platform often out of sync (displaying different or outdated data)?
Do different teams in your business draw radically different conclusions from the same data?
Do your tools not function the way you'd predicted?
Do you have trouble accessing and using the right data from data lakes or other data stores, and do you know what those lakes contain?
Your summary will help provide insight into your current situation and prep you to absorb and apply the course material.
Click here for more information about our teachers.
Morning
Introduction to data governance – what is it, and why is it useful? Practical examples will help drive the message home.
Putting it into context: the rationale behind why organizations need data governance and data catalogs
Looking at use cases to understand how data governance and data catalogs represent value and how they differ from other data management approaches.
Break
Introduction to our proven data governance method*, from data strategy to complex data governance use cases.
What's it all about? Using the method to gain a high-level understanding of data governance and data catalog-related methods, organization, technology, roles, and architecture – Part 1
Lunch
What's it all about? Using the method to gain a high-level understanding of data governance and data catalog-related methods, organization, technology, roles, and architecture – Part 2
Break
Getting to the bottom of why metadata and metamodels are essential and how to use them
What are the data architecture basics? How do they impact data governance & data catalogs?
Taking a look at the different data governance tools, their differences, and when to apply them. (With the data governance method as a framework of understanding)
Q&A
Lunch, coffee, refreshments and course material included.
Schedule
"In order to promote data-driven work in Sint-Niklaas, we organized the training courses 'Solving Business Problems with Data' and 'Data Governance' together with Data Trust Associates. Colleagues from various domains took part and were enthusiastically taken on board. A first result is that we have defined roles and responsibilities within our organization."
Data Governance Foundations
28 november until 28 november 2022
We are recognized by:
Registration number KMO portefeuille: DV.O213013

Our courses are accredited for the KMO-portefeuille. This means that, depending on whether you are a small or medium-sized enterprise, you can receive a 30% or 20% subsidy from the Flemish Government on the cost of registration.

Acknowledgement by Chèque-Formation

The training voucher allows you to benefit from financial aid to train your workers in one of the approved training centres. Worth 30 euros, it corresponds to 1 hour of training per worker.