Accelerating Business with Data
Time
from 09h00 - 12h00 & 13h00 - 17h00
Next training date
25

september

until 25

september

2023
Our teachers for the training: Accelerating Business with Data
Accelerating Business with Data raises 'Data awareness' levels of business teams & leaders. You'll learn how to capitalise on Data and make it work for you(r organisation).
Do the below questions sound familiar?
I know we need to work on our 'Data'. How do I get started?
What opportunities are we missing from Data, from operational to top management?
We're dealing with multiple challenges. How many are caused by or solved with our Data?
I'm hearing lots about Big Data/Data Analytics/Data Science/AI/Machine learning. Is my organisation ready for it?
We see our competitors are using some form of Data technologies. How can we leverage Data for a competitive advantage?
Our partner for this training is Data Trust Associates, a Data management firm with deep expertise in guiding and implementing Data Management and Data Compliance projects.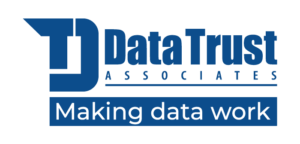 Main benefits 
Acquire the building blocks to solve both long-term and immediate business challenges and pursue business opportunities that clever use of Data makes possible.
How and when to use innovative Data solutions such as Data Analytics/Data Science/Machine Learning/AI/…
Understand the meaning of a 'Data-centric organisation'
Give yourself a competitive edge and get everyone working in the same, Data-centric direction
Allow for more efficient and effective Data solutions that are genuinely understood and wanted by the business
Access to our tried-and-tested 6-step Data method for unlocking value from Data
---
Get on a short call with the trainer to discuss in-company course content, pricing and specific needs. 
Reserve your seat for the upcoming online course.
---
What to expect 
Learning goals
How to distinguish between Data and information
How to understand and capitalise on the value of Data and information through examples and use cases
What is it, and how do you put your company on the path to becoming Data-centric?
Why Data and Data-centricity aren't just for IT or Data people, i.e., how business teams play a crucial role in Data-centric solid organisations
The proprietary 6-step method and how to deploy it to solve Data-related bottlenecks and other problems in your business, using relevant use cases and hands-on exercises tailored to your situation
How to recognise excellent and lousy Data Quality and how to tackle this
What are standard Data capabilities and services like Data governance, APIs, Data catalogs, self-service BI, Big Data stores, IoT, streaming Data, and Data science. How do I use them?
The basics of Data architecture and its different components, from platforms and Data sources to how Data can be accessed efficiently
How to make the most of your Data team and its services
What is your role in a Data-centric organisation?
Deliverables
A quality buffet lunch, snacks, coffee and drinks
A booklet of course material handouts
A cheat sheet with a proven Data Governance methodology
Exercises to work on during and after the class
Teachers 
This training is given by Christoph Balduck, a long-time DPI teacher and a co-founder and partner of Data Trust Associates.
Christoph has over a decade of experience overseeing the implementation of medium to large-sized Data transformation projects.
In giving this course, he hopes to spare you from making mistakes often seen in such programs.
Click here for more information about our teachers.
Target Group 
If you're looking for an excellent primer on Data or looking for a way to put your entire organisation on the same wavelength, this course is for you.
Business leaders: "We have a data team, but I have no idea what they do or how they can help me."

Data leaders: "We create great Data solutions, and we have many services to offer, but the business doesn't seem interested."
Typical profiles include:
Company executives
Data-savvy business People
IT team leads
Developers
Freelancers
Product managers
Process & business analysts
Management consultants
What will the course look like? 
In-company
We recommend the in-company formula for most organisations that are looking to get serious with Data and include it in their corporate strategy. Before an in-company training, we assess your needs and tailor the training to your goals.
---
Get on a short call with the trainer to discuss in-company course content, pricing and specific needs. 
---
Live in-group
For organisations still in the discovery phase or individuals wanting to up their Data knowledge for career gains, we generally recommend our in-group training.
The group size is kept to 20 people simultaneously for maximal interactivity and to allow for many questions.
---
Reserve your seat for the upcoming online course.
---
Morning
Getting to the bottom of 'data' and 'information'. How are they different? What value do they represent for organisations? We'll look at some examples and uses cases to make it tangible.
What is a data-centric organisation, and how do you become one? We'll look at the value of data centricity and the crucial role that business teams play in high-functioning data-centric businesses.
Break
Introduction to the 6-step method and data management.
Understanding and applying Steps 1 and 2 through practical use cases and hands-on exercises.
Lunch
More on the 6-step method and data management.
Understanding and applying Steps 3 through 5 through practical use cases and hands-on exercises.
Break
Understanding and application of Step 6 through practical use cases and hands-on exercises.
Learning the basics of data architecture and its different components, from platforms and data sources to how data can be efficiently accessed.
Getting to know common data and data services and how to make the most of them and your data team.
Q&A
Lunch, coffee, refreshments and course material included.

SME portfolio Flanders - higher subsidy for theme CYBERSECURITY: 45% for small and 35% for medium-sized enterprises.
Register now
Book a Call
"Past participants testify to a significant uptick in their company's business resource efficiency and satisfaction due to more insightful use of data and reports and innovative perspectives."

"In order to promote data-driven work in Sint-Niklaas, we organized the training courses 'Solving Business Problems with Data' (current Accelerating Business with Data) and 'Data Governance' together with Data Trust Associates. Colleagues from various domains took part and were enthusiastically taken on board. A first result is that we have defined roles and responsibilities within our organization."
Accelerating Business with Data
25 september until 25 september 2023
EN
We are recognized by:
Registration number KMO portefeuille: DV.O213013

Our courses are accredited for the KMO-portefeuille. This means that, depending on whether you are a small or medium-sized enterprise, you can receive a 30% or 20% subsidy from the Flemish Government on the cost of registration.

Acknowledgement by Chèque-Formation

The training voucher allows you to benefit from financial aid to train your workers in one of the approved training centres. Worth 30 euros, it corresponds to 1 hour of training per worker.