24.09.2019 Antwerpen
Antwerpse Brouw Companie
Sprekers van vanavond
Sessie 1
Tijdens de eerste sessie hebben we de eer om de oud voorzitter van de Privacycommissie in de bloemetjes te zetten. We nodigen Willem Debeuckelaere uit om zijn visie te geven over de ontwikkeling van het toezicht op gegevensbescherming in Europa.
Sessie 2
Tijdens de tweede sessie openen we het debat over de toekomst van Gegevensbescherming in België en Vlaanderen. We openen het debat, samen met Hans Graux, voorzitter van de Vlaamse Toezichtcommissie en David Stevens, voorzitter van de Gegevensbeschermingsautoriteit.
Het concept
Doorheen het jaar nodigt DPI gasten uit om te praten over zijn of haar job als Data Protection Officer. We gaan in op best practices en hinderpalen in het uitwerken van een privacy beleid, de impact van de Europese verordening op zijn/haar organisatie of gewoon een kritische blik op de actualiteit. Tijdens en na de presentatie volgt een gezellige receptie. De uitstekende gelegenheid om te netwerken tussen collega's.
Doelgroep
Het Privacy Café wil een ontmoetingsplaats creëren voor professionals die bezig zijn met GDPR, zodat ze er elkaar kunnen en durven vragen stellen. In de eerste plaats nodigen we uiteraard de Alumni uit van het Data Protection Institute. Echter, iedereen geboeid door en werkzaam met deze materie, is meer dan welkom.
Let op! Aantal deelnemers beperkt tot 120!
Inschrijven is kosteloos, maar uw inschrijving is pas geldig na ontvangst van een bevestigingsmail. Deze vindt u terug in uw mailbox na inschrijving. Zorg dat je deze zeker ontvangen hebt.
Locatie
Antwerpse Brouw Companie, Indiëstraat 21, 2000 Antwerpen
Wagen parkeren: Godefriduskaai Zeevaartstraat 11 2000 Antwerpen
Locatie: vanaf Parking Godefriduskaai is het tien minuten wandelen tot Antwerpse Brouw Companie. Er zijn doorgaans voldoende parkeerplaatsen. https://www.q-park.be/nl-be/parkeren/antwerpen/godefriduskaai/
Tarief: €2 per dag
Wandelroute: de route is in blauw aangeduid op de kaart.
Loop naar het noorden op de Zeevaartstraat, richting de Godefriduskaai
Sla rechtsaf naar de Godefriduskaai
Sla linksaf
Sla linksaf naar de Entrepotkaai
Sla rechtsaf naar de Napelsstraat
Parken in de buurt
Locatie: Je kan in de omliggende straten parkeren vanaf 17u.
Parkeerroute: de parkeerplaatsen zijn aangeduid in het groen op de kaart.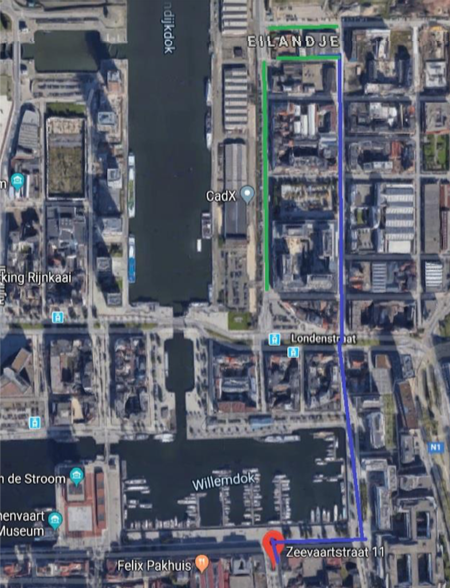 Openbaar vervoer
Vanuit treinstation Antwerpen Centraal, kan je verschillende bus-en tramlijnen nemen – Bushalte (Antwerpen Noorderplaats) op 10 min wandelen : lijn 770, 610, 622