Van der Valk Hotel Mechelen
Rode-Kruisplein 1-4 - 2800 Mechelen The training takes place in the Van der Valk Hotel Mechelen. You can find a route description here:
Car
ATTENTION: Parking is no longer allowed on the square in front of the hotel (Rode Kruisplein)!
Visitors to the hotel are therefore referred to the public (paying!) parking lot Parking Keerdok (Indigo) nearby:
Getting there:

Parking Keerdok is accessible from the N16 via a direct exit lane.
Address Parking Keerdok: Antonia Wolversstraat 1, 2800 Mechelen.

Note: not all GSP systems are up to date yet.

In addition to 516 parking spaces, there are also 20 charging points (22kW) and 4 fast charging points (200kW).
For more information, click here.
Train
From Mechelen train station, it takes approximately 30 minutes to walk to Van der Valk Mechelen. The walking route from the bus stop to Van der Valk Mechelen is marked in green on the map.
Walk to the north and take the pedestrian tunnel
Turn right onto the Frans Halsvest
Turn left onto Hof van Habsburg/Liersesteenweg/the N14
Turn right onto Edgard Tinellaan/the R12
Turn left onto Guido Gezellelaan/Oscar van Kesbeeckstraat/the N1
Turn right onto Guido Gezellelaan/the R12
Turn left to stay on Guido Gezellelaan/the R12
Turn right onto the Rode-Kruisplein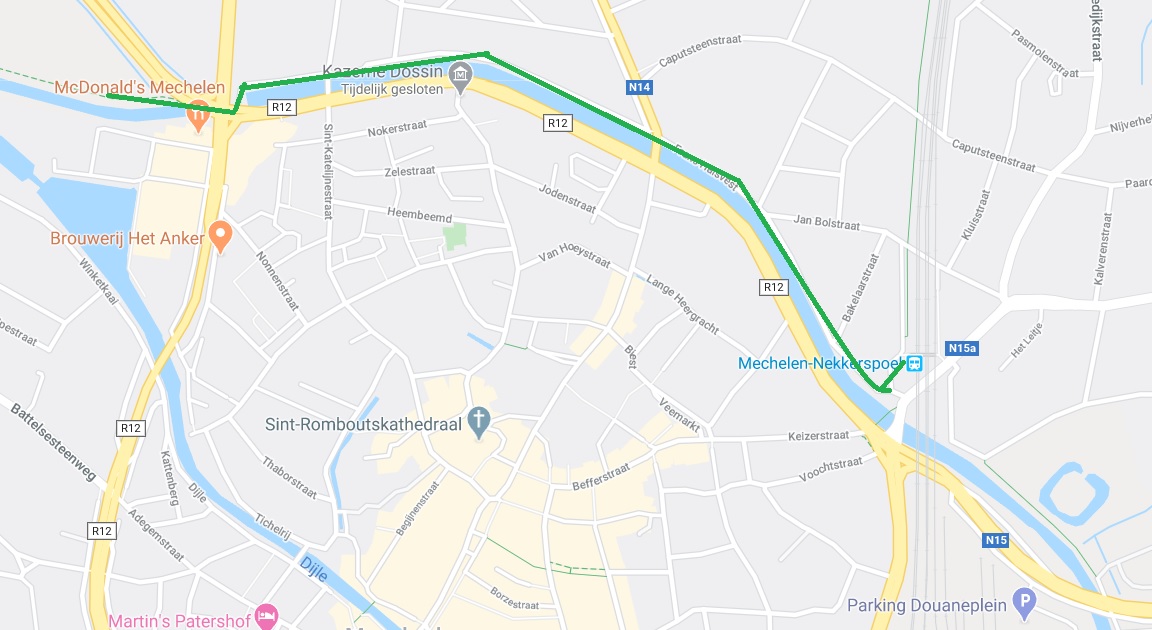 Bus
Van der Valk Hotel Mechelen is easy to reach by bus. There is the bus stop 'Rode Kruisplein' directly opposite the hotel and bus stop 'Nokerstraat' just a 5-minute walk away. Bus lines 9 and 500 run between the hotel and Mechelen train station. More information regarding routes and timetables can be found on the website of De Lijn.
Blue-bike
Blue-bikes are available at the station. More information here.
Taxi
Cabs are always waiting at the exit of Mechelen station to take you to the hotel. This is about €30 – €35 for a ride.