23.05.2022 Brussel
Can AI taste? Panel with (beer) experts, moderated by Tim Verheyden
About
The "Belgian Beer & Privacy Café" will be a side event of the 15th CPDP International Conference. The conference will take place from 22-25 May at the same location. DPI is a partner of the CPDP Conference and will use this event to bring together privacy professionals.
More information about the CPDP International Conference via this link. If you are interested in attending this event on Monday the 23rd of May, you can indicate this in the registration form. You will receive a discount code for this full day of the CPDP Conference if you attend the Privacy Café.
Content
During the evening Data Protection Institute will organize a Belgian Beer café with some of our finest Belgian beers. The café will open doors at 6.30pm with theme related booths. Around 8pm we will start a panel discussion (duration between 45 and 60 minutes).
Our moderator Tim Verheyden will interview 3 panelists and stimulate some interesting discussions. The panelists have different backgrounds, but share one great foamy love: beer. The panel discussion will be in English.
Interesting fact: the Privacy Café is a free event. There will also be a selection of Belgian beers (and other drinks for non-beer-lovers), as well as a tasty sandwich buffet, for every attendee to enjoy.
ADDED Topic: NIS2 discussion with Valéry Vander Geeten
Friday the 13th of May, the Commission welcomed the political agreement between the European Parliament and EU Member States on the Directive on measures for a high common level of cybersecurity across the Union (NIS 2 Directive). Time to discuss this with Valéry Vander Geeten on our Privacy Café. He will highlight the challenges and possible Belgian approach for NIS2.
The national implementation of the Directive (EU) 2016/1148 of the European Parliament and of the Council of 6 July 2016 on measures to ensure a common high level of network and information system security in the Union ("NIS directive") have led to several challenges. The proposal of NIS2 directive and its wider scope will also lead to new challenges in its future implementation.
Valéry will start his session at 7.15PM.
Content of the panel discussion
What does beer taste like? The very basic of beer is … water. However, beer doesn't smell nor taste like water at all. Hop, yeast, and malt are the classic ingredients. The addons may vary from fruit to spices. To define the taste of beer, other factors will play a role too, such as fermentation temperature, storage conditions, consumption temperature and, of course, the company you keep. Belgium is one of the world's leading countries when it comes to brewing beer, with a lengthy history and a cultural dedication towards the craft. As a writer, Master Beer Sommelier, and member of the jury of the World Beer Cup, Sofie Vanrafelghem will teach us how to taste beer.
Can Artificial Intelligence (AI) make beer? There are many ways Artificial Intelligence and machine learning can make our world more productive and effective. Is it a brilliant idea using AI to enhance beer production and taste? Brewing beer is an art and a science. AI offers a helping hand in both domains. Next Glass for example, the parent company to popular apps like Untappd and BeerAdvocate, captures consumer data to offer services like prediction models, based on machine learning. Based on these data, the company can predict how much people will like a particular wine or beer. Another example is Beerhive. This app brings order in the cluttered world of beer through flavor data intelligence. The founder of Beerhive, Jan Paesen, is also founder of Viva Brews, that unites the worlds of beer and wine. Combining consumer sensory data insights with world-class brew craftsmanship, Viva Brews has developed a new, award winning, drinks category: the grape based Belgian aperitif beer. Jan Paesen will explain how consumer data helps to produce good beer.
Beer, AI and data protection: the right to be forgotten? The proliferation of AI in the "industry of taste" is compelling us to think about what values we want, to ensure we can benefit from data used in a way that is lawful, fair and transparent. The value expectation of the market is becoming increasingly sophisticated. Embedding digital ethics in the design process of new products will be essential, but complex. The role of the DPO in this process is increasingly important. However, during the product design, DPOs are pulled in when crucial decisions have already been made. Hence, additional development time is required to implement the DPO advice. How to do better? Simplifying the design process by Legal by Design will be a guide during this process. Giorgia Vulcano, Global Ethics Manager and primary data privacy advisor of the global business of AB Inbev will explain how Legal Design can help … to make better beer.
Concept
Data Protection Institute is the leading training company for Data Protection Officers (DPO) in Belgium. Throughout the year, DPI invites guests to talk about their job as a Data Protection Officer or Privacy Professional. We will discuss best practices and obstacles within the privacy sector, the impact of the European Regulation on an organization or just a critical look at current GDPR developments. During and after the presentation, there will be a cosy reception. It is also an excellent opportunity to network among colleagues.
The Privacy Cafe is a free network event and is organized 6 times a year (in both French, Dutch, and sometimes English). This particular Privacy Café is a special (international) edition in English.
Target audience
The Privacy Café aims to create a meeting place for professionals working with GDPR. It is the ideal opportunity to ask questions, gather information and gain knowledge. Of course, everyone is welcome at this event.
Location – Accessibility and parking
For more info regarding how to get there, see below.
Address of entrance: Area42, Rue des Palais 46, 1030 Bruxelles (see picture below).
Parking spaces are by reservation. If you would like to reserve a parking spot, you can indicate this in the registration form.
Address of underground parking: Area42, Rue des Palais 42, 1030 Bruxelles (see picture below).
Parking spaces are limited and the location is in a very busy city center. If possible, use public transport! See details below.
Registration & subscription – SOLD OUT
Registrations are closed.
We would like to thank every organizational partner, attendee, sponsor, moderator, panelist and lecturer who made this evening a success!
18h30 - 22h30
Program:
Welcome with reception: 18h30
Start presentation Valéry Vander Geeten: 19h15
Start panel discussion: 20h
Closing café: 22h30
Car – parking only by reservation
Underground parking – address: Rue des Palais 42, 1030 Bruxelles
The parking stewards will welcome and guide you in the underground parking garage.
Parking spaces are limited and the location is in a very busy city center. If possible, use public transport!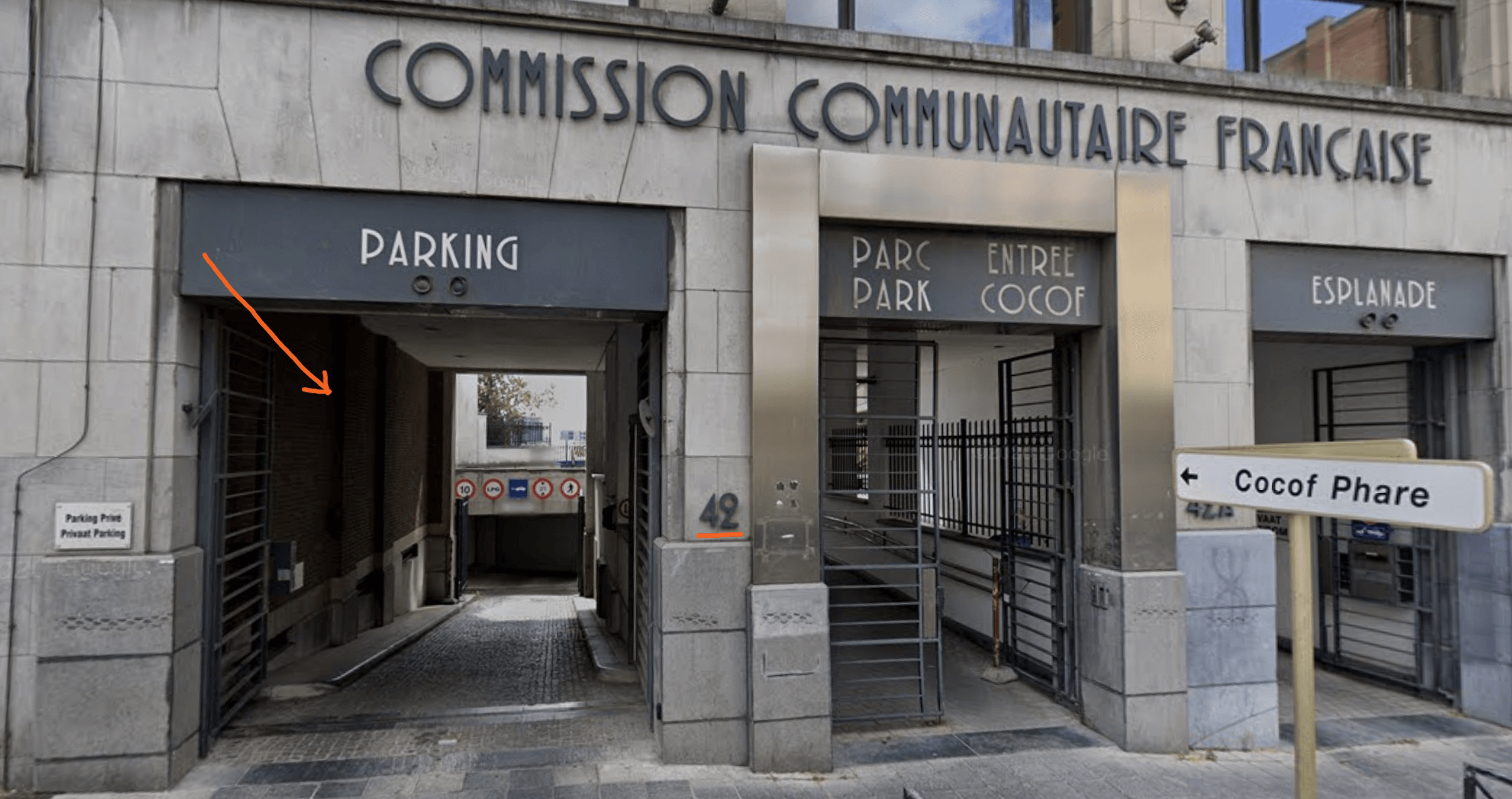 Train
From Brussels North train station you can walk to Area42 in nine minutes. The walking route is marked in blue on the map.
Exit the train station via the entrance of Rue du Progrès 76, 1030 Schaerbeek.

Head 

south

 on 

Aarschotstraat

/

Rue d

'

Aerschot

 toward 

Rue Allard

/

Allardstraat.

Turn 

left

 onto 

Rue Allard

/

Allardstraat.

Continue onto 

Rue Dupont

/

Dupontstraat.

Turn 

left

 onto 

Rue de la Poste

/

Poststraat.

Turn 

left

 onto 

Rue des Palais

/

Paleizenstraat

/

N277.
Blue bike
You can also rent 'Blue bikes' at the train station. For info, click this link.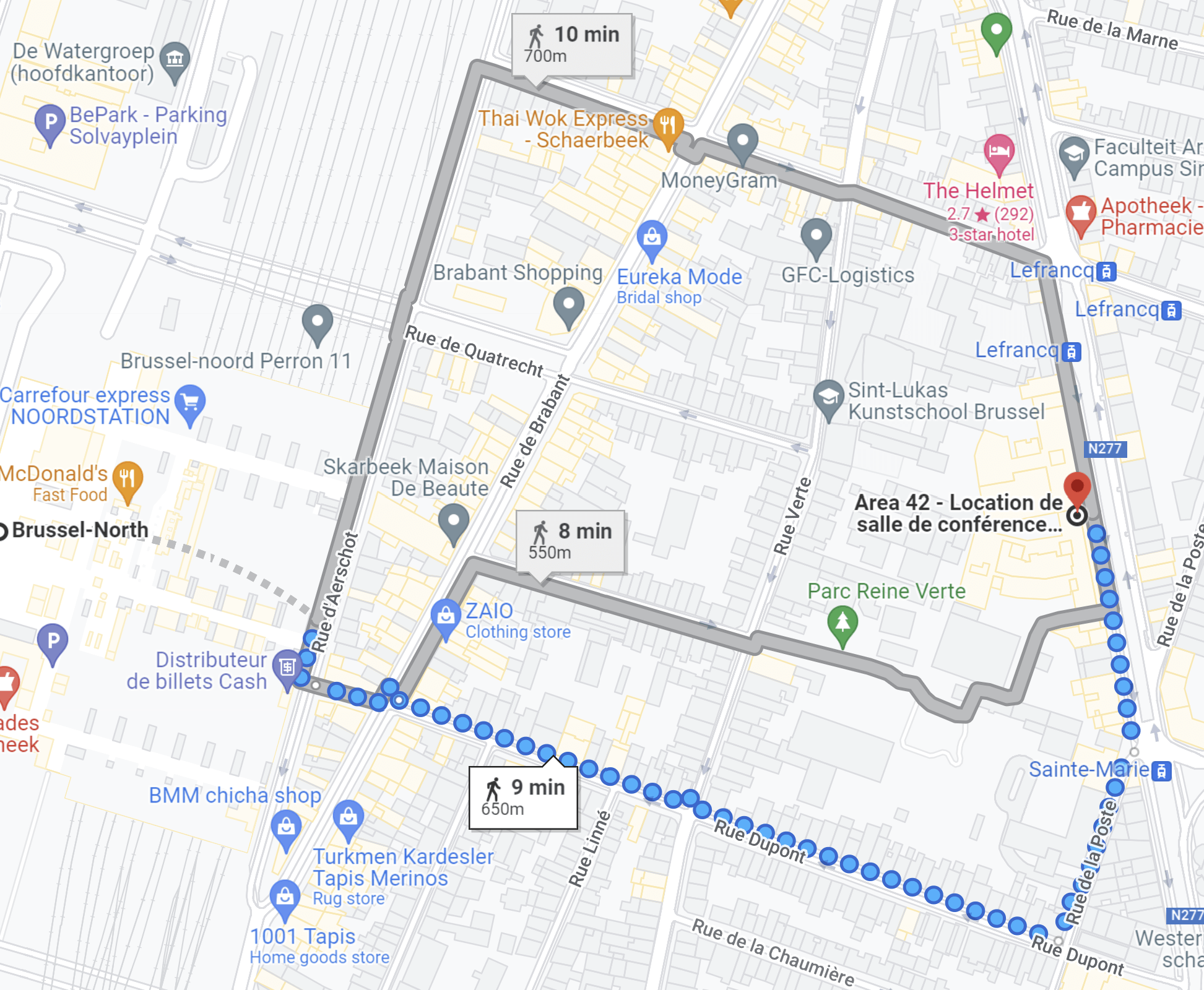 Tram
The nearest tram station is 'Sainte-Marie'. The walking route is marked in blue on the map.
Tram routes: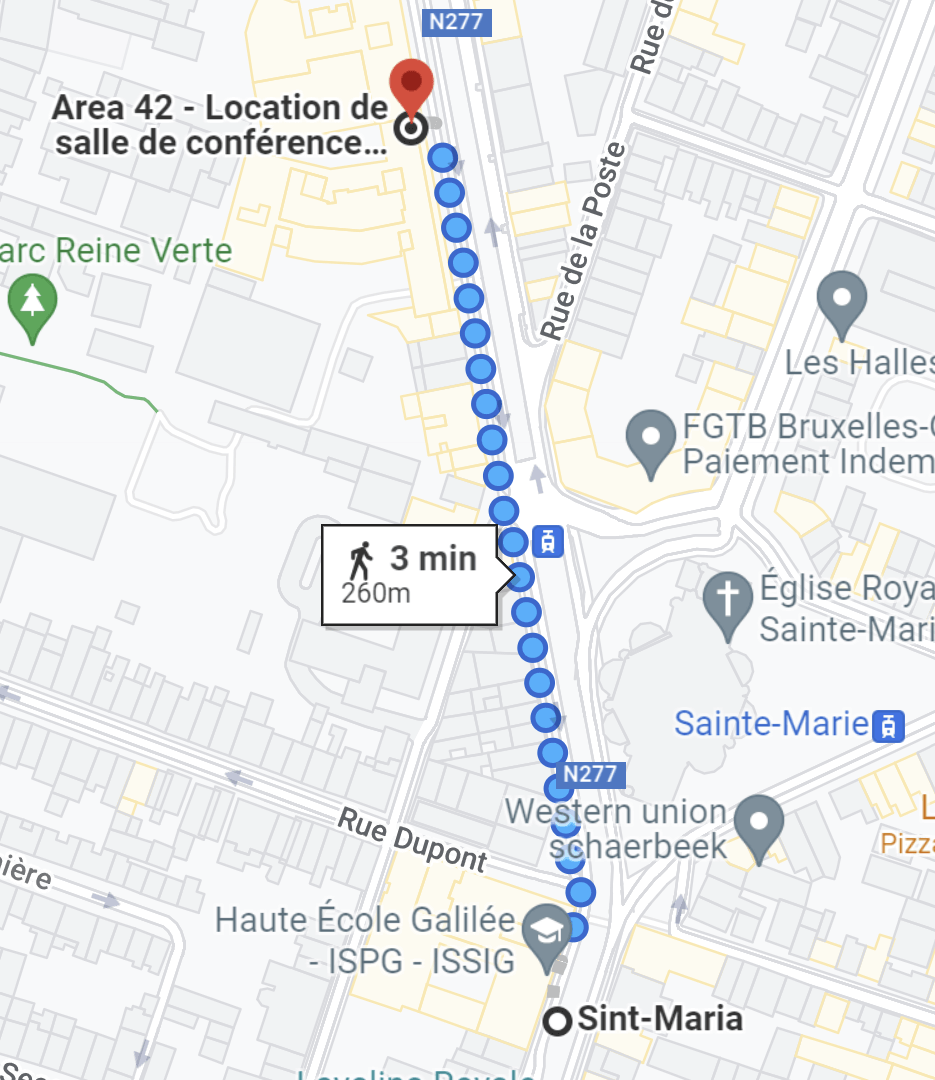 Metro
'Botanique' is the nearest metro station. The walking route is marked in blue on the map.
Botanique: 1210 Saint-Josse-ten-Noode.

Head

north

 on 

Koningsstraat

/

Rue Royale

/

N21

 toward 

Rue Brialmont

/

Brialmontstraat.

Turn 

left

 at 

Chau. de Haecht

/

Haachtsesteenweg.

Turn 

right

 onto 

Koningsstraat

/

Rue Royale

/

N277.

Continue to follow 

Rue des Palais

/

Paleizenstraat

/

N277.